What a difference a few years make. Intel's Ultrabook™ standards and Core™ processors have brought us laptops that are thinner, lighter, and more powerful than ever, while managing to offer even better battery life. All Ultrabook systems come equipped with Intel's Anti-Theft Technology, and newer ones have bright, sensitive touchscreens.
Best of all, Ultrabook systems can help us bridge the worlds of desktop and mobile computing. Consider ASUS' TAICHI series of laptop-tablet hybrids. Thanks to its twin screens, a TAICHI works as a conventional laptop and as a tablet: no clumsy twisting or sliding required. And because the two screens can mirror each other or display separate content, two people can watch the same program or video while facing each other. They can even work in separate programs on the one same TAICHI.
TAICHI Program Manager Tony Lin and his product team took some time to help acquaint us with this versatile Ultrabook.
Four machines in one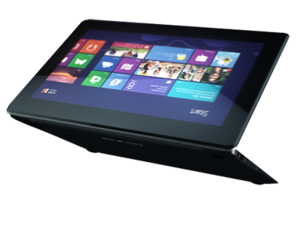 You'll find one of the TAICHI's two screens where you'd first expect it — facing the keyboard the way you would on a traditional laptop. The other is on the back, facing out. Both are 11.6-inch, full HD, 1920×1080, in-plane switching (IPS) panels. IPS is an LCD technology which arranges the liquid crystal molecules parallel to the glass, offering users "the finest graphic quality…and great viewing angles" of up to 178 degrees, says Lin.
These two screens give you four separate ways to use the TAICHI. Moving from one to another is as easy as opening a laptop or pressing a button.
Notebook mode: Your basic laptop, except that the TAICHI is more than basic. Between the high-quality and touch-sensitive screen, the Intel® Core™ processor, and the backlit keyboard, it's an exceptional PC even if you use it only as a conventional laptop.
Tablet Mode: But when you close the case, the screen on the back takes over and you've got a tablet with the full power of a PC. Need more precision than you can get with your finger? Simply use the included stylus.
Mirror Mode: Now we move into whole new areas of functionality. You can use the TAICHI like a conventional laptop, but with both screens displaying the same images. This, says Lin, makes the TAICHI perfect for showing a presentation to a small audience, "without the need for a bulky projector or clumsy external monitor." You can also watch a movie with a friend while sitting on opposite sides of a table. In fact, thanks to each screen's 178-degree viewing angle, people can sit almost anywhere at the table and still see the movie.
Dual screen mode: Here, the TAICHI effectively becomes two computers, and demonstrates the multitasking power of its Intel® Core™ processor. One user can sit in front and use the keyboard and multi-touch touchpad, while another can run entirely different, touch-friendly programs on the back. By using the bundled Screen Share app, you can run a presentation and see the script on one screen while a small audience views slides on the other.
ASUS: reinventing the PC
The ASUS design team knew that consumers wanted to get the best of both tablet and laptop computing. "We are always looking at ways to improve the user experience," Lin told us. "With the TAICHI, we wanted to create a perfect fusion between a Notebook and Tablet…"
Tablets and conventional laptops each have their own strengths. Now consumers don't have to choose. The TAICHI provides both in one.
ژوئن 28th, 2013 | تعداد بازدید/39 views | دسته بندی :
تازه ها
از سال 1375 فعالیت خود را در حوزه رایانه و هنر آغاز کردم - مدرس فناوری اطلاعات و شاخه های هنری - http://moradiphoto.ir